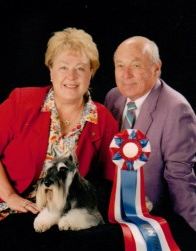 The professional handling aspect of Regency consists of Beverly and her Partner, Jerry Weirick. Jerry, has been an all-breed professional handler for over 40 years with just about every breed of dog there is, however, he is most noted for his handling of some very famous Golden Retrievers and also, 13 inch Beagles.
Beverly, has been handling professionally for the last 25 years. She considers it a great honor to have had the years' number one Schnauzer for a total thus far of seven years. Although she specializes in Miniature Schnauzers, and has finished well over 200 of them, she has also shown most all of the other terriers.
Jerry and Bev travel throughout the United States in a 40ft. motorhome, affording all the dogs the utmost comfort. While home, clients dogs are housed at Regency. They are carried from inside crates to large individual outside runs daily, and bathed weekly. We are proud of the way we care for our dogs and invite clients to visit at any time.
Please feel free to call for our current rate sheet, or to schedule a visit.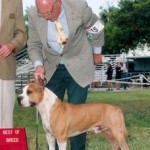 We also offer Grooming for your pet and Boarding services. Please call for an appointment