CH Regency's Equal Rights
Libby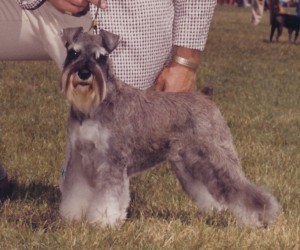 Born in 1980, Libby was the first uncropped American Kennel Club Champion in over 48 years. So unusual at the time, she had perfectly shaped and placed small ears which gave her a special look while still conforming to the Miniature Schnauzer Standard. She was a delightful little girl who was great fun to show and one of my family's favorites. Libby's best friend was my son Chris, they were inseparable.
CH Regency's Shot in the Dark
Flash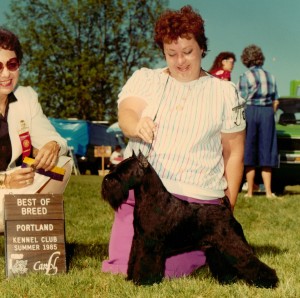 Shown in 1985, Flash became the breed's first Black to earn the coveted title #1 Miniature Schnauzer. One of the many Black Target Champion son's, Flash was the product of a Pet Black bitch bred to Target and was my 'pick of litter' puppy. He was an exciting dog to show, he loved doing it and it showed. He had a ton of confidence and attitude, he truly 'stood his ground' - And it showed !
CH Das Feders Drivin Miss Daisy
Daisy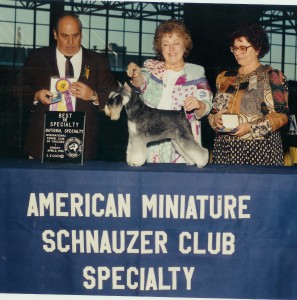 It was my pleasure to handle and live, for 3 years,with this exceptional Target grandaughter. Daisy was shown as a special in 1994 and 1995. During those two years, she was the Number 1 Miniature Schnauzer in the US. Daisy was one of the first truly natural showdogs, she was never handstacked and preferred to show herself. Besides being a great showdog, she was heaven on her legs, she moved better than any Schnauzer I had ever seen. Sporting and Working dog people used to love to come see her in the group, she was a favorite. She used to go out on the end of the lead, parallel with me, with the lead relaxed between us. So faultless and easy going was her stride that at one show, her lead had broken and I didn't even know it-partly because you could never feel her on the end and partly because she knew the routine so well she did it herself!
Daisy broke many records for a Special, especially a bitch Special. She won well over 150 Best of Breeds, 23 Specialties and 6 Best in Shows.
CH Regency's Turncoat
Turner
1996-2011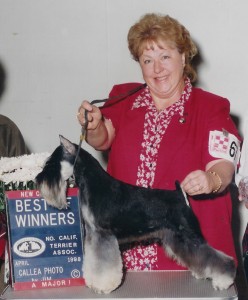 The first of our truly elegant Black and Silver Miniature Schnauzers, Turner was an easy winner. He went on to become the sire of a multitude of Champion Black and Silver Champions. His name can be found in some of the best kennels pedigrees.
CH Regency's Rosy Glow
Rosy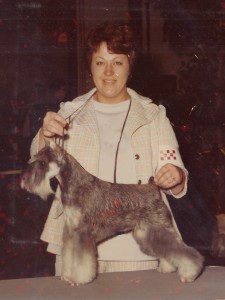 Rosy, a multiple Group winning Bitch, was the Dam of CH Regency's Right on Target
CH Regency's Right On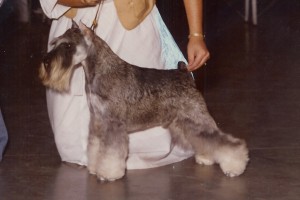 A Specialty and Group winner-a brother to Rosy Glow and the sire of Ch Regency's Right On Target
CH Daree's Strike a Pose
Katia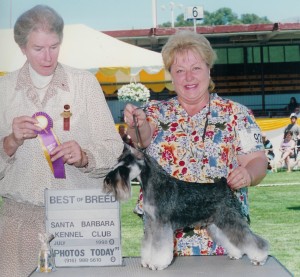 Ranked in the top 3 the year she was Specialed, Katia is the Dam of CH Regency's Twist of Fate.
AM. Japanese, Internatrional
CH Regency's Double Agent
Twoey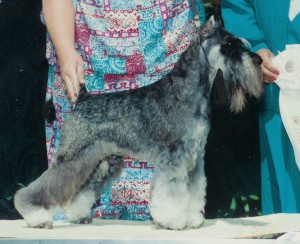 "Twoey" A Stallion of a dog, lived in Japan and Taiwan before coming home to Regency. He is the sire of Ch Regency's Twist of Fate.