CH Regency's Right on Target & CH Regency's Twist of Fate
CH Regency's Right On Target
Target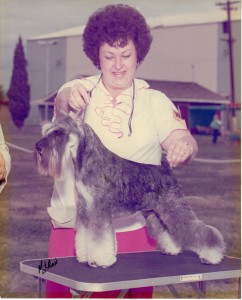 Born in 1980, he became the #1 Miniature Schnauzer for 1982, earning Regency's first Best in Show. . He was 13 3/4 " tall, very short backed with an extra length of head and neck. He had a harsh dark salt and pepper coat and moved flawlessly. As good as he was in the show ring, it was as a sire that he truly excelled. At Public stud for only 4 1/2 years, he sired 78 AKC Champions, a record that stood for over 15 years. He was so genetically strong that any bitch from any line could be bred to him and produce at least one puppy that resembled him enough to go on to become a champion. Bitches were sent to him from all over the country, and his puppies were easily recognised in show rings nationwide. "Ch Regency's Right On Target " can be found in a vast majority of the worlds most successful breeding lines of Miniature Schnauzers.
The following is from an article written by Mr Dan Kiedrowski in the November 1994 issue of "Schnauzer Shorts"
One of the perks of publishing Schnauzer Shorts these past three decades has been the privilege of sharing, if only vicariously, in the progress made by certain breeders. Few have given me more joy than the successes achieved by Beverly Verna's Regency family.
I like to think that her greatest achievement to date was "conceived " on one of the trips shared by Bev, Carol Parker (Skyline) and myself en route home from the June 1979 AMSC Great Western weekend in Southern California. Filling the time during an 8 hour trip comes easily when there is so much to share. A great deal of time was spent discussing the first breeding of the Ch Skyline's Blue Spruce daughter, Ch Regency's Rosy Glow. Since she and her brother, Ch Regency's Right On , both multiple Group winners, were from an outcross , we were looking at both sides of her pedigree for potential studs. there seemed to be little from the bottom half from which to draw, so most of the discussion centered around dogs that were related to Spruce, including "himself".
It was Bev's decision, of course, when in 1980 she took a calculated risk breeding Ch Regency's Rosy Glow to her full brother, Ch Regency's Right On-and she was "Right on Target"!
Bev remembers that particular whelping....
Target was different right from birth. He was almost totally black, with a head as long as his body. I thought-this one is either all wrong or we had something special. As he grew, I knew he was special, he was Right On Target!
Bev brought Target and his sister for me to see at eight weeks of age and how well I remember it. Although they were like peas in a pod, all tall, dark and handsome, it was Target who stood out-a finished product in miniature-everything right, qnd all in th right places.
He could best be described as an 'outline dog', squarely made with a little extra neck and a bang-on tailset. Seein him a month later, he hadn't changed a bit- and again at five months, still looking and acting just right. He remained this way throughout his puppyhood, looking so 'finished' all along the way. it was scary.
At nine months of age target was more than ready, evidenced by a title quest lasting just 22 days, shown by Bev in the Bred-By class all the way. I saw him in the ring for the first time on the 1981 Great Western weekend. By this time he had already won the Portland Sweepstakes, and had both majors. I really enjoyed watching him selected as Sweepwstakes winner at the AMSC Specialty, and his scoring Best of Winners in the Regular classes came as no surprise. Aweek later Target earned his final points by winning the Terrier group at the prestigious Golden Gate show, close to home in San Francisco. Seeing that was great fun too!
Bev of course remembers it m ore intimately....
The AMSC Specialty that June of 1981 was such a thrill. Having decided to finish this one from the Bred-by- Exhibitor class, target took center stage in a class of three, walking into the ring with his head held high, full of excitement and 'ready to win'. The crowd was suddenly hushed and I know he was being noticed. I don't think I have ever been more proud.
In this game one soon learns to trust the people involved whose opinions are valid-those who are both sincere and objective, based on years of experience and knowledge. Dan, of course, is one of those people. Because of his involvement. literally from the conception of Target, and hi encouragement along the way, it was a wonderful feeling to know he was also proud. One comment thqt day was from Margaret Haley (Arador) she said "I've only been tru;y excited about two dogs in all my years and this is one of them".
Of course, offers came in to buy him, what a quandry. Logic said that if he were sold, and shown by an experienced professional handler, he might easily become a top winner. It was a difficult decision, but one that I've never regretted. I suppose my very personal involvement with my dogs kept me from choosing that option.
Braving it alone has its advantages, not the least of which are the many friends made along the way. Target had his own special way of gaining friends, both two and four footed. He was extraordinary in that he was very protective. Target made it a habit of sleeping on the end of the bed (yes he was spoiled) shen we were aolone in a motel, he woiuld growl at anyone walking by. I used o think was jus cute of him until one night a stranger did walk into the room and Target flew off the bed in a much exaggerated "schnauazer -attack-mode" and scared him away.
Target came right out again in the fall, winning the Northern California Specialty and topping an entry of 75, including 11 Specials at Hatboro at his eastern debut.
The next year was his- almost! He came back to almost dominate the 1982 Montgomery County weekend, winning the Delaware Valley Specialty, repeating his Hatboro win and going Group III at Devon. The big plum, Montgomery, elude him. Target ended the year tying for the #1 spot. Shown only in prime coat that year, he won a Best in Show, three more Specialties, 14 Group placements and 30 BOB's.
Target retired from competition in 1984 after again winning the Delaware Valley Specialty and for the third time, Hatboro, edged out agin at Montgomery.
Shown sparingly by today's standards, Target won, from 1981 through 1984, one Best in Show, 30 Group placements, including 11 firsts, 60 Best of Breeds, including 7 Specialties, eaning a total of 1510 Knight points.
Bev reminds us that....
I sometimes wish that he had not come along until I had learned more. I felt that my inexperience in showing him often ws to his detrement. I know that he coiuld have done much more had an experienced Professional been showing him. But I still don't think that I could have been blessed with the thrills he gave me by doing it myself.
Target did not become the winningest Miniature Schnauzer in history, but in the five years he was used at stud, he did set a type and style that is distinctly his. The popular all rounder, Michelle Billings made a point of telling me that no matter where she judged, she could always pick out the Target offspring right away. And picked out they were! Target can be found in the poedigrees of nearly all the nation's top-winning breeding programs. Of his 78 Champions, only nine carry the Regency name. His success as a sire was not made by any one kennel, which gives me much gratification.
Target's success as a sire was immediate and dramatic. He established a new one-year producing record in 1984, recording 19 Champion get. In 1985 Target did it again with 19 more and went on to lead all sires for the next three years. Retired from stud at an early age, Target's record of 78 American and 20 Canadian Champions (several with both titles) still stands and he is likely to be the breed's all time top producing sire for many years to come.
These numbers, however, represent only a small part of his impact on the breed. The real impact was in the successes of his offspring, more immediately as snow dogs, and eventually as producers of future generations of winners.
Early on, Target's light would shine most brightly in the form of his Best in Show winning and best producing sons, CH Sathgate Breakaway (24 Chs.) and Ch Jadee's Supershot (16 Chs.) Both was a host of Sprcialty and Group wins, and both made the Top Ten Knight system in 1984. The top bitch that year was the Target daughter, Ch Daland Day Dreamer.
In 1985, Target sired three of the Top Ten winners and eight in the Top Twenty, including two record-seters. For the first time in Breed History a Black made the Number 1 spot, Ch Regency's Shot in the Dark, and the leading bitch was Target's Best in Show winning daughter, Ch Markworths Lovers Lane, recording the best one-year Knight System record ever achieved by a bitch to that date.
By 1986, with Breakaway and Supershot continuing as Top Tenners, yet another generation came to the fore in the form of Target's maternal grandson,the Black, Ch Sibehil's Dark Shadows, #1 All systems that year and the next. That Target was to become the top producer of Black for all time was inevitable.
The consistent quality of Target's Black descendents continued in the form of his Best In Show winning son, Ch Jubilee's jokers Wild, and more recently in Target's Multiple BIS winning great great grandson, CH Kelly's Pebwin Hallalujah, and in turn Hals grandson, the multiple BIS winning Ch Kelly's Right ON THE money, 1994'2 Top Dog.
The Black variety, in general has Target to thank for the dramatic upgrading of quality so evident in todays show dogs. He has, to date over 100 black Ch descendents-more than half the Blacks finished in the last decade.
The advantage of seeing Target now and again in his later years only made me more impressed with just outstanding an individual he was. Never out of shape, he was always in hard muscle and perfect weight, carrying dark coat of correct texture. Throughout his life he kept that same look I saw at 8 weeks-together-, a balanced one-piece dog with an extra bit of neck. Well angulated at both ends, he covered ground with ease. His inquisitive personality always charmed the casual visitor-providing a contant reminder of just what Miniature Schnauzers are all about.
CH Rency's Twist of Fate
Twister
In the first 5 years following the retirement at stud of "Target", very little breeding was done at Regency. This was a time period that I used to learn more about the breeds' health issues and the genetics involved with them. I also
searched other pedigrees and outside lines with which to incorporate into Regency.
The problem was that I had been spoiled. With the help of Target, I had produced a line that was very distinctive in appearance. Yes, my dogs shared many of the good qualities other successful breeders had from the "Ruffian" corner of the breed, but the early addition of Mankit into Regency had helped produce a line of dogs that was different from the rest. And it was this 'difference' I wanted to hold onto, it is what made Regency a line of its' own.I decided that rather than lose the look I liked so much, I would begin to add different lines from other, older Ruffian branches and to concentrate on my female descendants. I bred one of my favorite Target daughters, Ch Regency's Sweet and Sassy to a dog that was older and carried lines back to 'Jadee' a branch that I had admired , that dog was Ch Jadee's Secret Agent, and that breeding produced Ch Regency's Double Agent. "Twoey" as he was called was an up-on-leg dog with a beautiful dark hard coat, a long expressive head and long neck set on smooth shoulders, the same look that Target possessed. Besides being beautiful, he was a 'show' dog and had an outgoing, forever puppy personality. As much as I liked Twoey, I had promised him, when he was a puppy to a client in Japan, Mrs. Sumiko Ikeda, so I had to send him to Japan. But he grew up here and was finished and specialed before leaving. While he was here, he was bred a few times. One such breeding produced Ch Regency's Born to Boogie , a phenomenal dog that greatly resembled his father. Because Boogie was so closely related to the breeding bitches I had at the time, and because I couldn't afford to special one of my own then, I leased him to a Mr Len in Taiwan for what I thought was to be 5 years, afterwhich he would come home and I could use him to breed to my bitches daughters. I also concentrated on lines derived from Targets full sister, Ch Regency's Dusty Rose, and began what I call my "Rose" line of bitches. This particular line proved to be very successful for me, producing , among others, Ch Royal-T Amaretto Rose, Ch Regency's Crystal Rose, Ch Regency's Dynasty Rose, and Ch Regency's Forever a Rose. In the years after Target, I handled several dogs for other people, many to the #1 position. It was during this time that I was fortunate enough to be able to handle for a client, a terrific bitch named Das Feders Drivin Miss Daisy, a Target granddaughter sired by Ch Jerry O's Sharpshooter O'Daree. Daisy was the most exciting bitch I had ever seen. She had hard dark coat, perfect for rolling, a faultless topline with a straight up tailset. She wasn't big, just about 13 1/2 inches high, but she had a heart for me, and the show ring that was bigger than three dogs. That attitude, along with sound movement and textbook reach and drive made her a record-breaking bitch and a whole lot of fun to show and live with. Daisy lived with me for the three years that I handled her. When she left I was so broken hearted that my partner, Jerry Weirick talked to Gwen Mulheron, of Daree, and convinced her to let me take home her Ch Daree's Strike a Pose (Katia) to replace Daisy. Katia looked so much like Daisy, many people thought that she was her daughter, she wasn't, but she did share Sharpshooter in her pedigree. Katia was a bit smaller than Daisy, and although she was made and moved every bit as well as Daisy, she just didn't possess quite the 'heart' and showmanship of Daisy. Even so, during her year long specials career, Katia attained the rank of #3.
Five years had gone by and now it was time to bring Boogie home. Unfortunately , Mr. Len in Taiwan had other ideas and refused to return him to me. Boogie and my future breeding plans for him were lost to me. It was not long after that a most coincidental series of events began. Mrs. Ikeda in Japan sold the 8 year old American, International and Japanese Ch Regency's Double Agent (Boogie's father) to a broker in Taiwan who then sold him to Mr. Ryan Weng. As it turns out, Mr. Weng was also a client of mine who knew quite well how important Double Agent (Twoey) was. Ryan kept him for 1 1/2 years to finish his Taiwanese Championship and breed to his own bitches, at the end of that time he called me. Ryan said, "Madame, tomorrow please go to San Francisco airport, Twoey is coming home to his Mama"! With that one generous act of kindness, my breeding program really came to life. Twoey, at 9 1/2 years of age arrived in perfect health and wonderful condition. Within his first month home, Katia came into season and was bred to him, that litter produced 3 puppies, a dog and two bitches. One bitch was sold to Mrs. Barbra Baymiller and finished at the Northern California Specialty by going Best of Breed, Ch Regency's Pandemonium. The dog, I kept, Ch Regency's Twist of Fate, named for that series of events that brought his father home to me.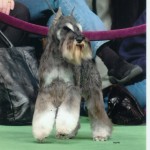 As a young dog, Twister followed the growth pattern of his father and so inherent in the "Jadee" line of dogs. He was leggy and lanky and looked young until he was 2 years old. As much as I loved this puppy, I think I was the only one who could see his potential. But I had faith in him, he had the most beautiful head I had ever seen, and a lovely long neck with a faultless shoulder transition, all the attributes I loved so much about Target. And, he had his Dad's personality, happy, alert, always on his toes and never putting a foot down wrong. I saw all these qualities and just knew that given enough time, this dog would grow into a great one. At 2 1/2 years of age, everything came together, his ribs sprang, he had more body, all his parts came together, and he was another great one for Regency, he so resembled his Great Grandfather, Target.
In the show ring, Twister was a bit of a handfull in the beginning, everything excited him, he loved it but had a hard time remembering that I was on the other end of that lead and that he couldn't do or go anywhere he wanted to. I brought him into the house to live with us, he was treated like any other housepet and he learned to pay attention to me, finally, we were a team! Showing this dog was the delight of my career, he was such fun. He loved to go to the shows, and thought he was the biggest dog there, talk about self-confidence, he had it all, he would spare with the best (and biggest) of them and look beautiful doing it. All that bluster and macho in the ring but yet the sweetest most loving dog at home. He is truly the best of both worlds.
In 2007, we took him to Montgomery County as a Veteran, he would be 8 years old in one more month. I hadn't had him on a lead in over a year, I trimmed him at the show at the last minute, it was really hot and alot of the dogs were feeling the heat. but he walked into that ring and owned it all over again. He kicked out his rear legs, jumped up on his front, looked around him and said "come and get me" he was having a ball, and I was too. He won his 4th Montgomery County Best of Breed that day, I will always remember it, a great day!
Most breeders work hard for many years just to produce one great dog if they are lucky. I feel doubly blessed with having produced two. Ch Regency's Right on Target was born in 1980, he tied for #1 in 1982, and was retired from stud in 1985 having produced 78 champions in a 5 year time span. Nineteen years later his Great Grandson Twister was born. He became the winningest Miniature Schnauzer in history .Twisters record includes:
#1 in USA Miniature Schnauzer in 2002, 2003 and 2004
312 Best of Breeds
27 Best in Specialty shows, including 7 National Specialties
151 Group placements
78 Group Firsts
11 All Breed Best in Shows
A great show dog is only one side of the coin, the other is his ability to produce. Twister's accomplishments thus far in that whelm is equally significant. He has been the Top Sire in the Breed every year since 2004, a record 8 years in a row, producing Champions in all three colors. He has produced 82 Champions to date, and the rest is yet to be seen.
Though 19 years have passed since Target was born, and much has happened in that time to alter my breeding program, and at one time stop it, I am proud to say that I have persevered, bred healthy dogs and kept that 'Regency' look. Presently, Regency is continuing to breed Miniature Schnauzers that are both beautiful and healthy. As for showing our dogs, we plan on finishing several more Twister youngsters this year.